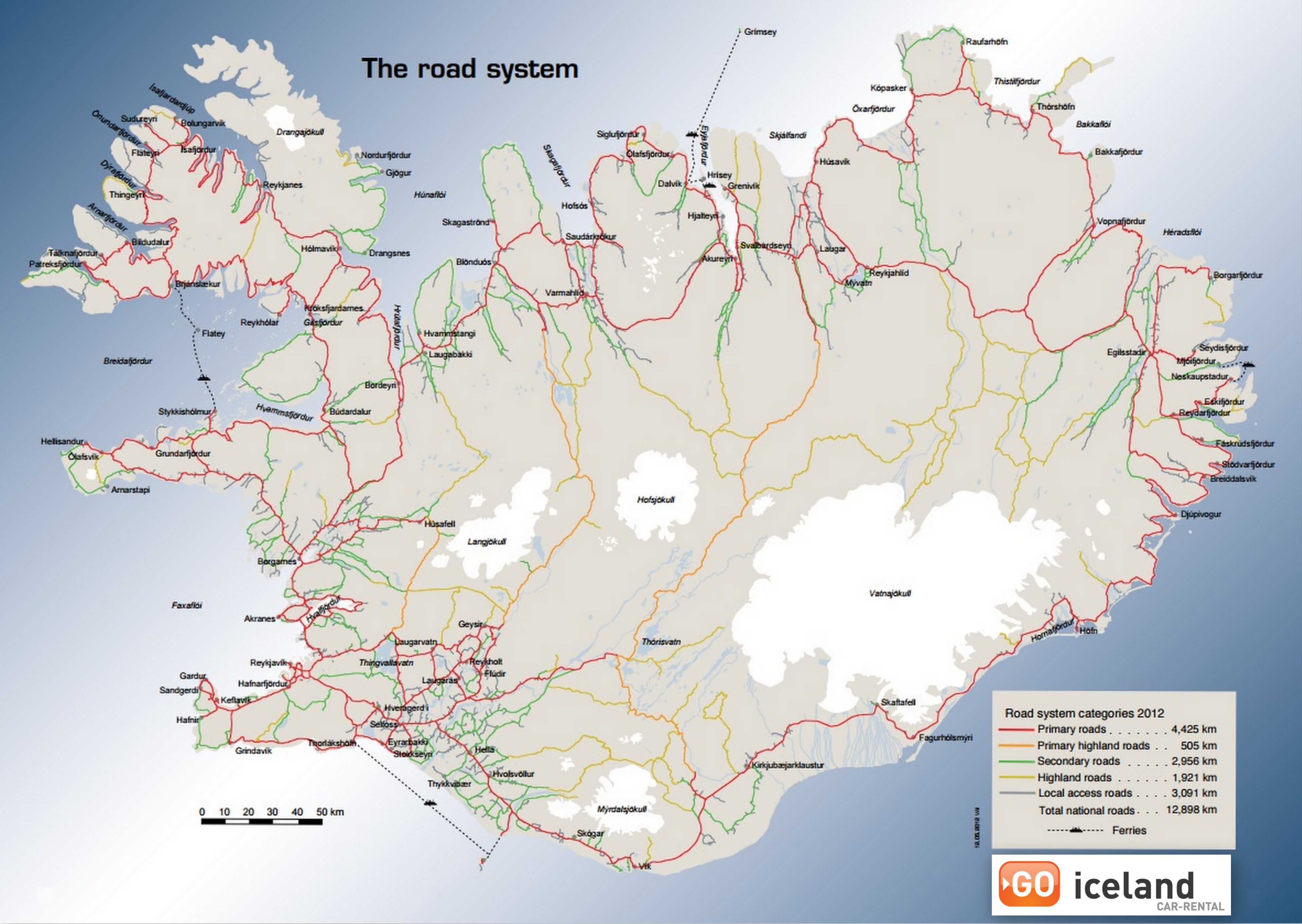 While driving around Iceland, you will drive on many types of roads. The roads are categorized into four different groups.
National roads
Municipal roads
Public paths
Private roads
We will describe them here and what to expect while traveling around Iceland so you can be prepared and know what to expect.:
National roads of Iceland
National roads are open to everyone and are free to travel on. There are no tolls in Iceland except fees for some tunnels. The national roads are categorized into 5 different groups:
Primary roads
Primary roads is the core of the road system in Iceland. They connect all villages (with +100 inhabitants). The roads connection the municipalities around the metropolitan area also belong to the primary roads. In some cases, the primary road system streches to airport and harbours too which are important for the transport of cargo and/or tourism. The primary roads are paved and usually in good condition. During summer they service and maintain these roads so when you are passing a roadcrew, drive slowly by them and give them room to work.
Primary highland roads
A part of the national road system can be found in the highlands. Due to, at times, severe weather condition in the highlands, these roads have very limited service and are closed during winter. These gravel roads are often very rocky and narrow. If the road is marked as an F-road, your rental car agreement strictly prohibits any non 4×4 vehicle to travel on these roads. Most rivers up in the highlands are unbridged. Keep a safe speed and keep your eyes on the roads for potholes and big stones.
Secondary roads
Secondary roads are found outside populated areas. They connect primary roads or highland roads to the primary road system. These roads can also connect small villages (100 inhabitants or less) to the primary road system, as well as airports, harbours, ferries, national parks and popular tourist destinations. The condition of these roads are dependent on where they are, the more remote, the higher the probability they receive less service and maintenance. When winter has let go of its grip, these roads are more prone to be slightly damaged so drive with caution.
Local access roads
Local access roads are roads to places like factories, churches, farms, public schools and other public places located outside populated areas. A local access road can also connect a group of 30 summer houses or less to a secondary or primary road. These roads are usually in a pretty good condition and the speed limit is very low usually.
Highland roads
These are state roads that cannot be categorized to any category mentioned above. This category covers roads across mountains and moors and are usually very rough, narrow and passes many unbridged rivers so again, drive with caution.
Information from www.road.is
As of 2012, Iceland had 12.898 km of roads.(8014 miles)
Safe driving!  #GoIceland